Twenty-eight years before Japan first staged the Olympic Games in 1964, Tokyo had already succeeded in a bid to host the Olympics. These were the 1940 Tokyo Olympics that later came to be known as the "Tokyo Olympics that never were." In spite of overwhelming disadvantages, Kano Jigoro, who is known as the "father of judo," traveled the world and succeeded in bringing the Olympics to Japan. Why was Kano so obsessed by the Olympics?
Text by Hisashi Sanada (Director of the Japan Olympic Academy and Associate Professor of Tsukuba University)
Photographs provided by Kodokan Judo Institute
Beginnings of the Olympic Movement and Kano Jigoro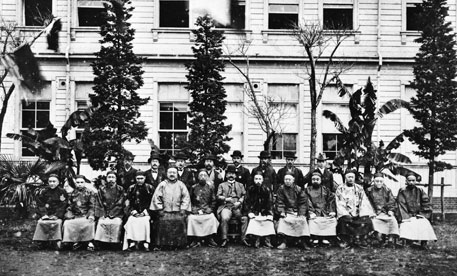 Welcoming a Chinese education mission to Kobun Gakuin in July 1902.
Japan's involvement with the Olympic Movement began around 100 years ago with the 1909 appointment of Kano Jigoro (1860-1938) as the first Japanese member of the International Olympic Committee.
As anybody who has experienced judo knows, Kano Jigoro was the founder of Kodokan judo, which brought together various ancient forms of jujutsu and was developed for the purpose of educating young people.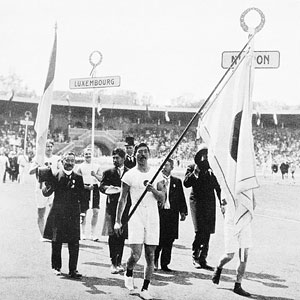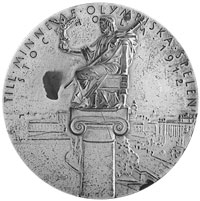 Japan took part in the Olympics for the first time in Stockholm in 1912, when it joined the entrance procession (top photograph) and won its first participation medal (bottom photograph). Kano agreed to join the IOC upon hearing about the Olympic ideal from Monsieur Gerard, the French Ambassador to Japan, because it coincided perfectly with his own ideas.
At that time, Kano was the president of the Tokyo Higher Normal School (the present day Tsukuba University) and, in addition to judo, he was an avid educator in other physical education disciplines, such as swimming, long-distance running, tennis and soccer. Starting in 1896, he also enthusiastically welcomed overseas students from China, and taught them physical education, sports and judo. Tokyo Higher Normal School accepted approximately 7,000 overseas students up to 1909. Kano believed that physical education not only served to strengthen the physique, but also enhanced morality towards oneself and to others, and enabled people to stay young and live happily if such practices were continued throughout one's life.
Kano's philosophy applied to all people irrespective of age or sex, and also did not discriminate by nationality. Kano pointed to walking, long-distance running, swimming and judo as exercises that could be enjoyed by anyone. He also believed that moral values acquired through judo and other forms of physical education could be practiced in one's normal life.
Pierre de Coubertin, the founder of the modern Olympics and President of the IOC at the time, was also keen on educational reform based on sports, so he was eager to surround himself with people like Kano.
Upon joining the IOC, Kano became actively involved in the Olympic Movement. In response to a request by the Swedish Olympic Committee, Kano made preparations for Japanese athletes to take part in the 5th Olympic Games of 1912. Kano established the Japan Amateur Sports Association (now called the Japan Sports Association) as the organization responsible for sending Japanese athletes to the Olympics and staged a qualifying event for athletes. Two athletes, Yahiko Mishima in track and Shiso Kanaguri in the marathon, were chosen to represent Japan. However, because Kanaguri, who was a student of Tokyo Higher Normal School at the time, did not have the economic means to travel to Stockholm, Kano established a support association at the school and solicited sufficient contributions to pay for Kanaguri's journey.
And so, Japanese athletes took part in the Olympic Games for the first time in Stockholm. After that, Kano rarely missed an IOC meeting or Olympic Games. After the Olympic Games were finished, Kano visited IOC member countries to observe physical education and sports, introduce judo and build closer relations with each country.

Letter of intent (7 October, 1911) concerning the foundation of the Japan Amateur Sports Association and the staging of a qualifying event for the Stockholm Olympics.