SAPPORO 1972 Winter Olympic Games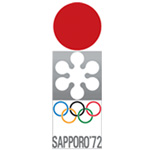 The 11th Olympic Winter Games were held over 11 days from 3 to 13 February, 1972, in the city of Sapporo in Hokkaido. In these, the first Winter Olympics to be staged outside Europe and the United States, a total of 1,006 athletes (801 men and 205 women) from 35 countries and regions took part in 35 events in six sports. Fourteen new facilities were constructed as event venues and almost all the events were staged in Sapporo City, the exception being the downhill skiing events, which were held on Mount Eniwa in the neighboring city of Chitose.
As the host nation, Japan organized a large delegation of 110 members (20 officials, 70 male athletes and 20 female athletes) and won its first ever Winter Olympic gold medal.
In the 70-meter ski jump (now the normal-hill event), Japan dominated the winners podium, with Yukio Kasaya capturing the gold medal, Akitsugu Konno the silver and Seiji Aochi the bronze.
At these Olympics, controversy arose over the issue of amateurs vs. professionals, and the IOC banned Austrian skier Karl Schranz from competing for receiving payments from ski manufacturers.
For the city of Sapporo, the Games contributed to major urban improvements, with the opening of a subway system and construction of an underground shopping arcade benefiting the citizens of this snowy city.
One of the legacies of the Sapporo Winter Olympics is the Sapporo Winter Sports Museum inside the Mt. Okura Ski Jump Stadium, which exhibits precious memorabilia from the Sapporo Olympics and of winter sports in general.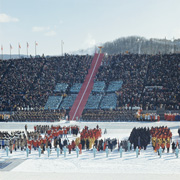 Opening ceremony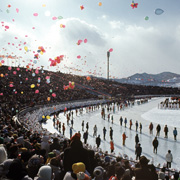 Closing ceremony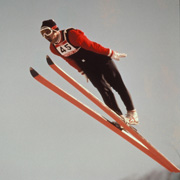 The Japanese ski-jumping team, nicknamed the "Hinomaru Hikotai" [Hinomaru Squadron]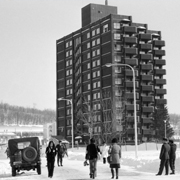 Athletes' village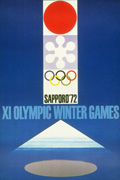 Poster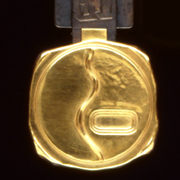 Medal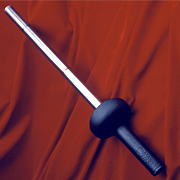 Torch