TOKYO 1964 Olympic Games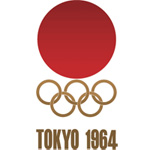 The Games of the 18th Olympiad, the first Olympics to be held in Asia, were staged in Tokyo over 15 days from 10 to 24 October, 1964.
A total of 5,151 athletes (4,473 men and 678 women) from 93 countries and regions took part in 163 events in 20 sports, with judo and volleyball being introduced for the first time. Thirty venues, including newly constructed, renovated and temporary facilities, were used in the Tokyo metropolitan area and four other prefectures (Saitama, Kanagawa, Nagano and Chiba).
Yoshinori Sakai, who lit the Olympic Flame at the Opening Ceremony, was born in Hiroshima on August 6, 1945, the day the atomic bomb was dropped.
Japan had a delegation of 437 (82 officials, 294 male athletes and 61 female athletes), almost twice the size of the team it sent to the Rome Olympics, and won 16 gold medals, five silver medals and eight bronze medals (29 in total), finishing third in the medals table behind the United States and the Soviet Union. Japan excelled in wrestling and men's gymnastics, winning five gold medals in each sport, while the Japan women's volleyball team won the gold after overcoming the powerful Soviet team 3-0 in the final. The TV viewing rate for this match was reported to have reached 85%.
The Tokyo Olympics raised the curtain on Japan's era of rapid economic growth, with the construction of expressways and the bullet train taking place at this time. However, urban infrastructure was not the only legacy of the Games. Following the decision to host the Olympics in Tokyo, Japan embarked on an effective program of athletic development and achieved major success during the Games. Also, in the wake of the Olympics, sports clubs (sports schools and training clinics) sprang up across the country and played an important part in spreading sports in Japan. As a result, it became possible for a broad section of society, from children to the elderly, to enjoy sport on a regular basis.
Today, Prince Chichibu Memorial Sports Museum at the National Stadium hosts an exhibition of memorabilia from the Tokyo Olympics and other Olympic Games.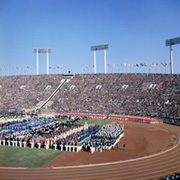 Opening ceremony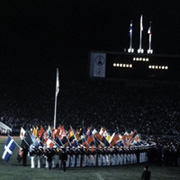 Closing ceremony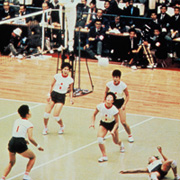 Japan women's volleyball team, "The Oriental Witches"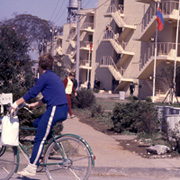 Athletes' village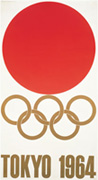 Poster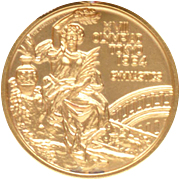 Medal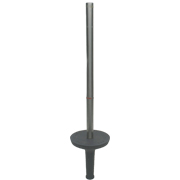 Torch