NAGANO 1998 Winter Olympic Games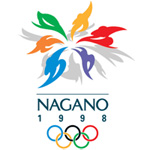 The 18th Olympic Winter Games, which were held over 16 days from 7 to 22 February, 1998, were the second Winter Olympics to be held in Japan, 26 years after the Sapporo Olympics of 1972. The events were mainly held in the city of Nagano and the nearby towns of Yamanouchi, Hakuba, Karuizawa and Nozawaonsen. With its motto of "Coexistence with the Nature," the host nation paid the utmost attention to environmental issues of all kinds, including the venues, furniture in the Athletes' Village, the clothing of officials and so on.
A total of 2,176 athletes (1,389 men and 787 women) from 72 countries and regions took part in 68 events in seven sports, including, for the first time, snowboarding and curling.
Japan's delegation of 313 comprised 147 officials and 166 athletes (100 men and 66 women) and the team won five gold medals, one silver medal and four bronze medals (10 in total). For the first time, Japan won multiple gold medals and its total medal haul was its best ever.
Kazuyoshi Funaki in the ski jump and Hiroyasu Shimizu in speed skating won two medals each, while Tae Satoya became the first Japanese female to win gold at an Olympic Winter Games, in the women's moguls event in freestyle skiing.
The "One School, One Country Program", under which local elementary and secondary schools were allotted their own country to support, was tried for the first time at the Nagano Olympics. This activity has since been continued at subsequent Olympic Games.
Also, utilizing Japan's high technology know-how, car navigation systems were fitted in the vehicles used for transporting officials, while a video-on-demand system, enabling those involved to watch action from the events at any time, was also provided.
After the Games were finished, the Nagano Olympic Museum was established inside the M-Wave arena, which was used as the venue for the speed skating events. Today, the Olympic Torch, medals, video images and other items are on display here.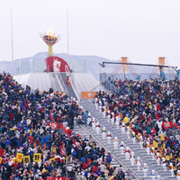 Opening ceremony
Closing ceremony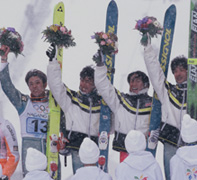 Ski jump team (Funaki, Harada, Okabe, Saito)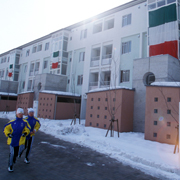 Athletes' village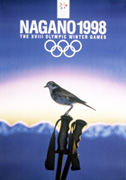 Poster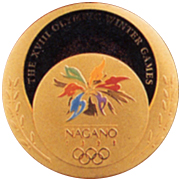 Medal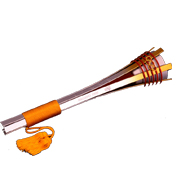 Torch