The JOC conducts a variety of activities aimed at broadening understanding of the Olympic spirit (Olympism).
Outline of the Olympic Day Event Program
On 23 June, 1894, at the Sorbonne in Paris, a resolution was adopted, at the suggestion of Pierre de Coubertin, to revive the modern Olympic Games and to create the International Olympic Committee (IOC).
The IOC recognizes this memorable day - 23 June - as Olympic Day and calls on National Olympic Committees (NOCs) around the world to stage tournaments and commemorative events in order to enlighten people about the Olympic Movement: To nurture a spirit of mutual understanding and friendship and to contribute to the construction of a peaceful and better world through sports. This represents the fundamental spirit of the Olympics.
In 1996, to commemorate the 100th anniversary of the modern Olympic Games, 172 NOCs staged "Day Runs" and programs of rich local flavor incorporating art and culture. Such events have since been staged every year throughout the world.
Olympic Day Events in Japan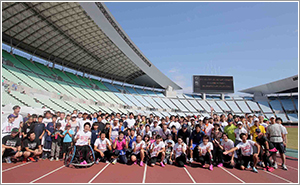 In response to the IOC's encouragement, the JOC stages a number of commemorative events every year with the goal of enhancing the Olympic Movement (the fundamental spirit of the Olympics). Among these Olympic Day celebrations, the central event is the Olympic Day Run, which is open to the general public and is held in countries around the world. The JOC has conducted Olympic Day Runs across Japan since 1987. The purpose of the Olympic Day Run is to spread understanding about the enjoyment of sports and the basic spirit of the Olympics by giving ordinary people the opportunity to run alongside Olympic athletes. The event consists mainly of a fun run over a distance of 5 km that is accessible to all people. Since 1998, the main event held in Tokyo has been renamed the Olympic Festival and its programs have been expanded to include sports clinics conducted by Olympians and the JOC Cup ekiden road relay. This festival attracts around 15,000 people every year. In addition, local Day Runs are held throughout the country in May, June and October, depending on the weather conditions in each area, and such events attract upwards of 2,000 participants each time.
Also, as a winter version of the Day Run based on cross-country skiing, the JOC has launched the world's first Olympic Snow Run, which attracts 3,000 participants. This means that the combined participation in Day Runs throughout the country exceeds 30,000 people every year.
Also, since 1997, the Olympic Concert, which combines classical music based around the Olympic Symphony and featuring images of sports, has been held every June in Tokyo to great acclaim.